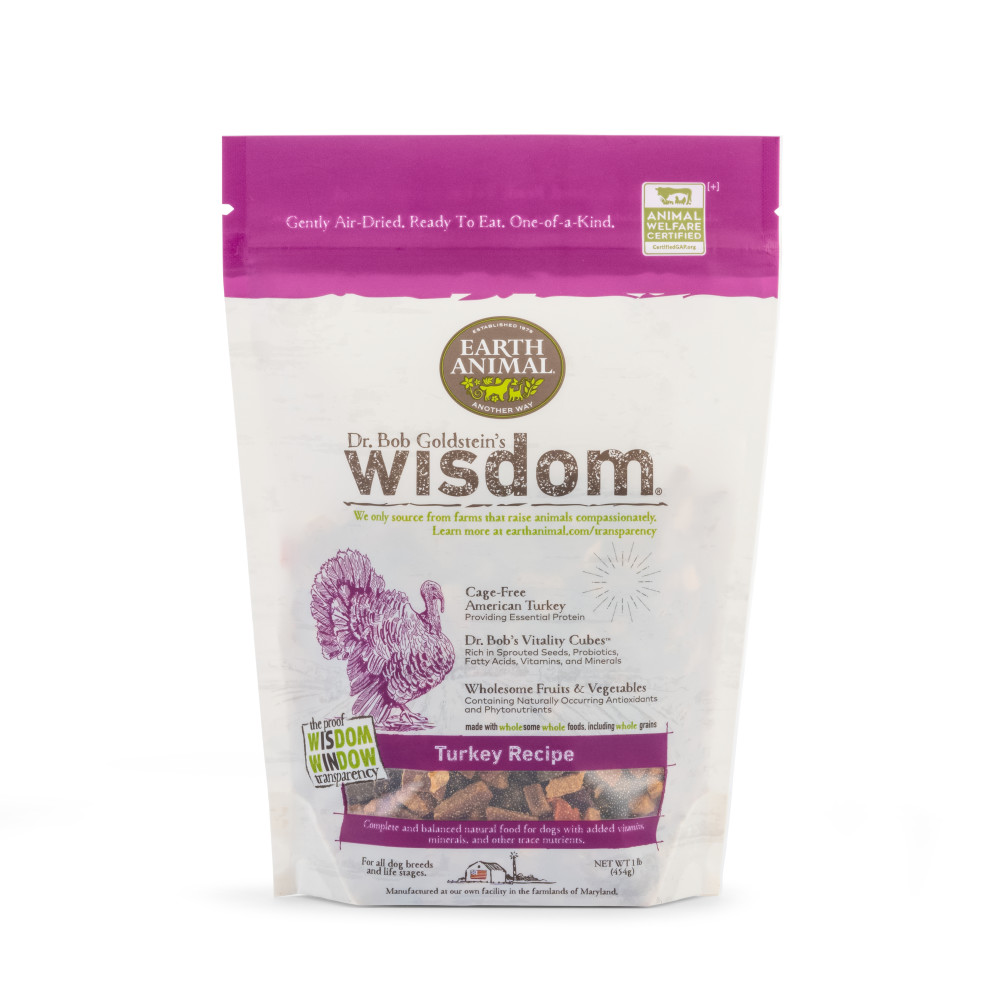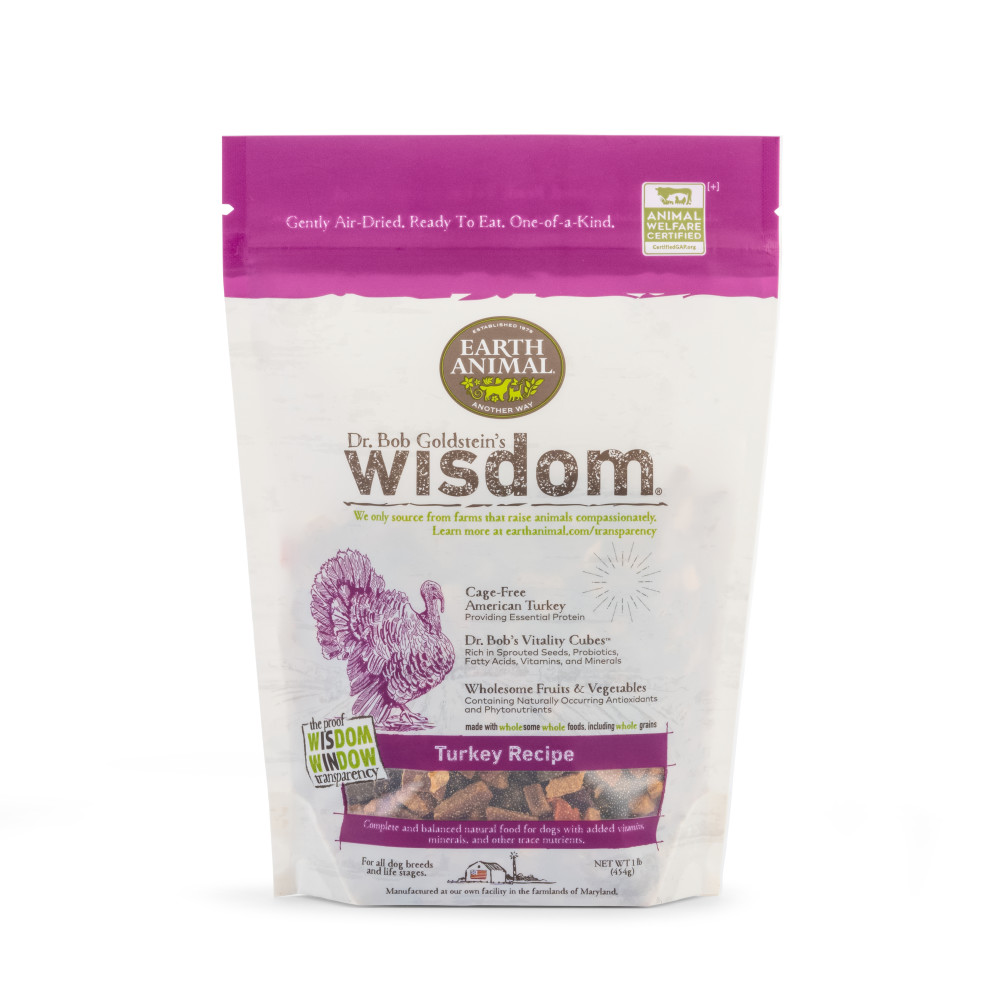 Earth Animal Wisdom Turkey Dry Dog Food, 1-lb
Air-Dried & Dehydrated Food
Price :
$12.99
Click Here to check if you`re eligible for Local Delivery
Since 1979, we have been dedicated to helping thousands of dogs and cats live long, healthy lives by creating high-quality, wholesome foods, treats, organic herbal remedies, and supplements. As a holistic veterinary family, we share your health goals of wellness and longevity for animals. We take making Wisdom very seriously. It's crafted in small batches at Riverstone, our manufacturing facility in the farmlands of Maryland, where we oversee the integrity of every ingredient from start to finish. You can trust that every choice we make thoughtfully upholds our missions: to preserve and enhance the quality of life for all Earth's animals. And you can trust that we will always be transparent about how Wisdom is made, our compassionate sourcing and our selection of ingredients. Thanks for letting us share our Wisdom with you and your animals. It's the food we have been dreaming about making for decades! Earth Animal dedicates 1% of annual net sales to efforts that preserve and enhance quality of life for animals, people, and the Earth._x000D_ _x000D_ •THE WISDOM DIFFERENCE: Our 3 components are gently air-dried in small batches to maintain nutrients and natural flavors. Once cooked, the meat, Vitality Cubes, and fruits & vegetables are tumbled together for a flavorful, vibrant, ready-to-eat food_x000D_ •THE DIFFERENCE DELIVERS: High palatability from savory aromas, appealing textures, & flavors, high nutrient density from whole food ingredients & optimal temperatures to retain nutrients, and 97% digestible - higher than most dog foods on the market today_x000D_ •IT'S ONE-OF-A-KIND: It's a ready-to-eat, nutritionally complete & balanced meal. It's a treat, It's a trail mix, Use it for training, use it in a puzzle toy. It's healthy, It's packed with textures, tastes, and aromas, It's the best dog food available_x000D_ •MADE WITH INTEGRITY & INTENTION: Cage-free poultry, no ingredients from China, Made in the USA at our craftory in Maryland. What isn't in the food is just as important: Wisdom is free from corn, wheat, soy, legumes, artificial flavors & preservatives_x000D_ •ANOTHER WAY: We are dedicated to enhancing and preserving quality of life for animals, people, and the Earth. We do this by providing another way – a more trusted, humane, and sustainable way to change things for the better, one Earth Animal at a time
Ingredients
Turkey, Oats, Flax Seed, Sweet Potatoes, Sunflower Meal, Dicalcium Phosphate, Beets, Carrots, Natural Flavor,_x000D_ Monocalcium Phosphate, Honey, Oyster Shell Flour, Dried Chicory Root, Broccoli, Sea Salt, Apples, L-Threonine, Fish Oil,_x000D_ Cranberries, Blueberries, Lecithin, Potassium Chloride, Taurine, Choline Chloride, Organic Sprouted Flax Seed, Organic_x000D_ Sprouted Oats, Organic Sprouted Quinoa, Organic Sprouted Sunflower Seeds, Organic Sprouted Pumpkin Seeds, Mixed_x000D_ Tocopherols (a preservative), DL-Methionine, Zinc Proteinate, Iron Proteinate, Vitamin E supplement, Magnesium_x000D_ Proteinate, Vitamin B12 supplement, Copper Proteinate, Manganese Proteinate, Organic Spinach, Organic Tomatoes,_x000D_ Organic Shiitake Mushroom, Organic Oranges, Organic Pumpkin, Organic Cherries, Organic Strawberries, Calcium_x000D_ Pantothenate, Riboflavin, Niacinamide, Rosemary Extract, Folic Acid, Vitamin A supplement, Biotin, Dried Bacillus_x000D_ Coagulans Fermentation Product, Sodium Selenite, Pyridoxine Hydrochloride, Vitamin D supplement, Thiamine_x000D_ Hydrochloride, Calcium Iodate.